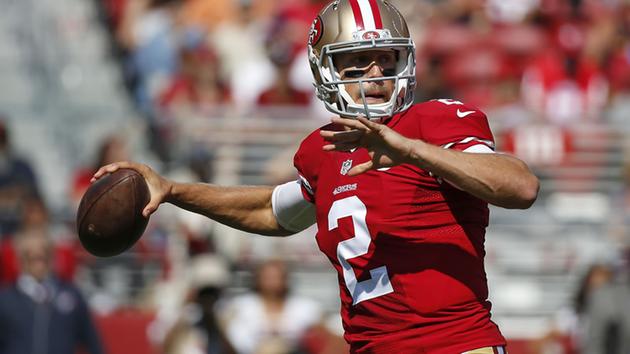 This is the live blog for the 49ers' preseason game against the Broncos. I'll update this frequently with information and analysis from my living room.
4:23 Read this column on Chip Kelly before today's game begins.
4:30
Chip Kelly does an amazing job with his offense. Without game planning and even with planning his offense can present a lot of problems

— Wade Phillips (@sonofbum) August 18, 2016
Translation: If Chip Kelly's offense performs well against my defense tonight, remember I didn't game plan this week.
4:34 DeForest Buckner is OUT with a lower-body injury. Is this a planned rest day?
4:38: Also OUT: Arik Armstead. This is all part of the plan, I'm sure.
4:41 The rest of the inactives: Bruce Elllington, DeAndre Smelter and Glenn Dorsey.
4:45 Check out Colin Kaepernick throw passes before the game.
Video of Kaepernick (who will not play) in grey and black to Ellington in all red during pregame. #SFvsDEN pic.twitter.com/kFyr34GD6m — Jennifer Chan (@jenniferleechan) August 20, 2016
Kaepernick again throwing to Ellington, a deep pass in the other direction. #49ers #SFvsDEN He's probably > 35 reps pic.twitter.com/zCQJkydZ0e

— Jennifer Chan (@jenniferleechan) August 20, 2016
Colin Kaepernick won't play. He's throwing pregame. Velocity coming back it appears. 49ers hope he's 100% next week pic.twitter.com/bbOynB1cIC

— James Palmer (@JamesPalmerTV) August 20, 2016
5:01 Broncos CB Aqib Talib and OLB DeMarcus Ware are OUT.
5:32 Ravens QB Josh Johnson is 8-9 for 59 yards and 1 TD tonight against the Colts. Niners could have signed him this offseason.
6:02 Tim Ryan just said he think Blaine Gabbert played well last week. Tough grader.
6:04 Niners win toss and defer.
6:13 Niners give up a 19-yard touchdown run to C.J. Anderson. Inside linebacker Gerald Hodges was out of position on the play. 7-0 Broncos.
6:18 Niners defense gave up five catches on six pass attempts for 55 yards during that drive. Tramaine Brock got beat twice, and Jimmie Ward committed a holding penalty.
6:20 Gabbert throws the ball away on third-and-7.  On second-and-12 he threw a short pass to Vance McDonald's ankles and McDonald made a nice catch in the flat. Classic Gabbert.
6:27 Chris Davis stops Norwood short of the sticks on third-and-7 from the Broncos' 48, and Denver punts. Good series for the defense, which improved once Ray Ray Armstrong replaced Hodges.
6:32 Gabbert completes a four-yard pass to Garrett Celek on third-and-7 and the Niners punt. Gabbert was 3-for-4 on that drive with a nice 14-yard completion to Vance McDonald and ugly incomplete pass intended for Carlos Hyde in the flat.
6:38 Niners give up a 12-yard run to Devontae Booker just before the end of the first quarter.
6:39 Trevor Siemian telegraphs a pass to Demaryius Thomas, Eric Reid picks it off and returns it 42 yards for a touchdown. Great play by Reid. Tie game.
6:48 Eli Harold beats the left tackle with speed around the edge and forces Siemien to throw the ball away on second-and-9. Broncos punt two plays later. Bryce Treggs makes a fair catch at the SF 32. Niners will start at their 37 after a penalty on Denver.
6:53 Trent Brown and Andrew Tiller create a huge hole for Carlos Hyde, who scores on second-and-goal from the 4. 14-7 Niners. Gabbert missed an open Vance McDonald downfield on a seam route early in the drive, then hit McDonald over the middle a few plays later.
7:06 Eli Harold is down after Tank Carradine hit him in the side with his helmet.
7:07 Marcus Rush sacks Mark Sanchez on third-an-11 from the Niners' 20. Broncos kick a field goal. 14-10 Niners.
7:10 Gabbert leaves the game after completing 6-of-9 passes for 69 yards. Jeff Driskel replaces him.
7:15 Marcus Martin gets knocked on his rear end and Mike Davis gets stopped for a loss of one on third-and-2 from the Broncos' 9. Three plays earlier, Driskel completed a 25-yard pass to Bryce Treggs while taking a big hit. Niners kick a field goal to extend lead to 7.
7:19 Nick Bellore gives up an 11-yard catch just before the 2-minute warning.
7:19 Quick thoughts on Gabbert. He played better tonight, although not much better. A couple of his completions were bad passes.
7:26 Tank Carradine strips Mark Sanchez on first-and-10 from the Niners' 13. Bellore recovers.
7:26 Next play, Driskel completes a screen pass to Mike Davis and Davis fumbles the ball back to the Broncos.
7:29 Marcus Rush strips Sanchez on third-and-10 and the Niners recover. Rush and Carradine abused Broncos' backup right tackle Kyle Roberts in the first half.
7:31 Driskel takes a knee before halftime.
7:44 Gabbert made four good throws.
7:47 Mike Davis fumbles for the second time.
7:48 Sanchez throws three straight passes that almost get picked and go three-and-out. I can see why the Broncos start Siemian over him.
7:53 DuJuan Harris runs for seven yards on first-and-10. Erik Pears gives up a sack on third-and-2. Harris probably will make this team. Pears probably will not.
7:58 Garrison Smith sacks Paxton Lynch on third down. Smith has been fantastic. He might make the team over nose tackle Mike Purcell.
8:04 Harris gains six yards on first down. He has 35 rushing yards on six carries. Niners punt a few plays later.
8:06 Rush beats Kyle Roberts yet again to sack Paxton Lynch. Broncos punt.
8:09 Roberts is an undrafted free agent who won't make a roster.
8:11 Driskel completes a 40-yard pass to Cajuste. Pass of the night.
8:12 Harris fumbles and the Broncos recover. Five fumbles in two preseason games for the 49ers.
8:23 Paxton Lynch leads a 90-yard touchdown drive. He's legit. 17-17.
8:26 Christian Ponder completes a 5-yard pass to Jerome Simpson on third-and-three just before the end of the third quarter.
8:27 Question: What has Gabbert done to win the starting job?
8:34 Now Ponder leads a 75-yard TD drive. He finishes it with a 22-yard touchdown run on a read-option play. 24-17 Niners.
8:39 Broncos go three-and-out after Bralon Addison drops a well-placed pass on third-and-three.
8:44 Ponder completes a 22-yard touchdown pass to a wide open Dres Anderson. 31-17 Niners. Ponder is 7-8. Driskel was 6-7.
9:00 Lynch leads a 76-yard touchdown drive and finishes it with a four-yard touchdown pass. He is the best quarterback in this game.
9:03 Niners recover the onside kick.
9:08 Lynch sails a pass into the hands of safety Kenneth Acker. Niners win. Stay tuned for grades.