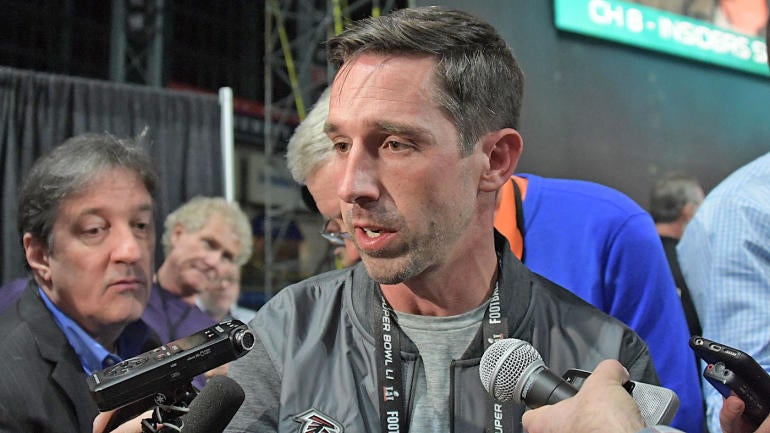 The San Francisco 49ers just announced that they have hired Kyle Shanahan as their head coach.
Here's a statement from Jed York:  "This is a very exciting day for the San Francisco 49ers and our fans. Throughout this process, we learned many things about Kyle that convinced us he is the perfect coach to lead this team. Over the years, he has proven to be one of the brightest minds in the game of football and his recent success speaks for itself. Kyle's leadership has brought the best out of his players at every phase of his career and we look forward to watching him build a talented staff to accomplish the same with our players.
"Kyle and (49ers GM) John (Lynch) are top-tier football men with outstanding pedigrees who join the organization with a tremendous amount of respect for each other. The future of this franchise will be constructed from their vision, and we look forward to watching them work together for years to come as they instill the culture necessary to consistently compete for championships."
Here's a statement from John Lynch: "The San Francisco 49ers are very fortunate to be able to bring in a coach of the caliber of Kyle Shanahan. As an offensive mind, I think he stands alone in the National Football League, as evidenced by the explosive and record-setting offense in Atlanta. Though he grew up around coaching, what has most impressed me about Kyle is that he's become his own man in the profession. Our philosophies on football and our visions for leading the 49ers back to being a championship team align in every way. I am thrilled to have Kyle Shanahan on board."
And here's a statement from Kyle Shanahan: "It is truly an honor to be named head coach of the San Francisco 49ers, one of the marquee franchises in all of sports. I must thank Jed and the York family for entrusting me with this great privilege and tremendous opportunity. I would also like to express my gratitude to Arthur Blank, Dan Quinn and the Atlanta Falcons organization for their support and the experience of a lifetime.
"As a young man, I had the unique benefit of being exposed to the storied history of the San Francisco 49ers firsthand. From that exposure, I developed great respect for those who created a world-class, championship standard. As this team begins the task of reestablishing that standard, I could not ask for a better partner than John Lynch. He is a man who certainly has personal knowledge of what championship organizations look like. John and I look forward to establishing a strong culture that will serve as our foundation for constructing this team.
"I am very excited to dedicate myself to the process that lies ahead. The first step in that process is identifying talented individuals who love the game of football as much as John and I do – coaches, players and staff. We are looking for individuals who work hard and are dedicated to doing things the right way, always in the best interest of the team. Most importantly, we want to give our fans a team they can be proud of on and off the field."
How do you like this hire in light of how Shanahan choked away the Super Bowl?