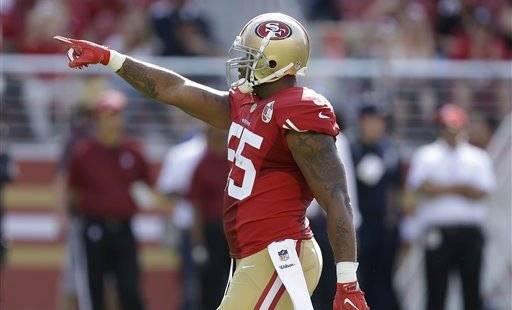 This is the live blog for the 49ers' Week 2 road game against the Carolina Panthers. I'll update this frequently with information and analysis from my living room.
8:33 Here are the 49ers' inactives:
OT Anthony Davis
QB Christian Ponder
CB Marcus Cromartie
RB DuJuan Harris
DT Tony Jerod-Eddie
OT John Theus
DT Taylor Hart
That means both Andrew Tiller and Joshua Garnett are active. No word yet on which will start.
8:49 Look for the Panthers to move the pocket. Cam Newton got hit 17 times in Week 1.
8:50 Here are the Panthers' inactives:
QB Joe Webb
WR Damiere Byrd
CB Teddy  Williams
RB Cameron Artis-Payne
LB Jared Norris
OL Tyler Larsen
DT  Paul Soliai
Which player do the 49ers regret re-signing more?

— Grant Cohn (@grantcohn) September 18, 2016
9:34 Anthony Davis is out with a concussion he reportedly suffered during practice on Thursday. I don't buy that report, though. There's no contact during practice. Players don't even wear helmets.
9:56 Expect Newton to throw between six and eight passes that travel at least 20 yards downfield.
10:03 Niners win the toss and defer.
10:05 Antoine Bethea intercepts a tipped pass from Newton.
10:08 Andrew Tiller is starting at right guard.
10:09 Kawann Short blows past Daniel Kilgore on second-and-goal from the five and tackles Shaun Draughn for a five-yard loss. Blaine Gabbert throws the ball away on third down. Phil Dawson makes a 29-yard field goal and the score is 3-0 Niners. Gabbert attempted only one pass during that drive. Carlos Hyde ran four times for 16 yards.
10:19 Newton's first long pass is a 42-yard touchdown pass to Ted Ginn Jr. on third-and-10. Tramaine Brock was in coverage.
10:22 Ginn's second foot landed out of bounds. Call overturned. First-and-10 at the Niners' 37.
10:26 Newton overthrows a wide open Greg Olsen for a potential touchdown on third-and-22. NaVorro Bowman was in coverage. Jeremy Kerley makes a fair catch at the Niners' 11.
10:30 Charles Johnson strips Carlos Hyde on second-and-7. Shaq Thompson recovers and runs it into the end zone. Touchdown Carolina. 7-3 Panthers.
10:32 Panthers running back Jonathan Stewart injured his hamstring and is questionable to return.
10:34 Quinton Patton returns the kickoff only 11 yards to the 49ers' 14. Once again they start behind their 15-yard line.
10:41 Gabbert throws behind a wide open Garrett Celek on second-and-10 from the Panthers' 41. Two plays later he overthrows Aaron Burbridge on third-and-13 and the Niners punt. Ginn makes a fair catch at the Carolina 16.
10:42 Gabbert made a nice 20-yard pass to Torrey Smith early in that drive. He needs to make those long throws more consistently.
10:44 Mike Tolbert gains four yards up the middle on first down just before the end of the first quarter.
10:50 Ray Ray Armstrong strips Fozzy Whitaker and recovers the ball. The Panthers are challenging.
10:52 Refs confirm their ruling. Niners' ball.
10:57 Torrey Smith beats James Bradberry for a 28-yard touchdown on second-and-9. Great play. Smart to take advantage of the rookie corner near the red zone. 10-7 Niners.
11:01 First play of the drive, Newton throws a 78-yard touchdown pass to a wide-open Greg Olsen. Antoine Bethea got torched. 14-10 Panthers. Will be interesting to see if the Niners' young defense loses confidence after this one-and-out drive.
11:07 Gabbert throws a grounder to an open Jeremy Kerley on third-and-8 and the Niners go three-and-out in a minute and 13 seconds. Let's see how the defense responds.
11:16 Devin Funchess catches the ball out of bounds on third-and-7 and the Panthers punt. Kerley makes a fair catch at the Niners' 12.
11:25 Gabbert misses an open Rod Streater wide left on third-and-10, and the Niners punt. Panthers start from their 18 with 1:48 left in the half.
11:32 A holding penalty on the Panthers shuts down their drive. Andy Lee's punt pins the Niners' at their 2-yard line.
11:35 Niners' go three-and-out after three-straight Draughn runs.
11:36 Panthers' ball at their 46 with 42 seconds left in the half.
11:37 Newton completes a 17-yard pass to Kelvin Benjamin over the middle.  Rashard Robinson hits him and injures himself. He walks off the field with a trainer.
11:39 Next play, Newton runs a draw and gains 16 yards.
11:40 Keith Reaser drops an interception in the end zone on second-and-10.
11:41 The Panthers make a 39-yard field goal as the half ends. 17-10 Carolina.
11:42 The Niners offense averaged a measly 4.7 yards per play, and the Niners defense gave up a gargantuan 7.1 yards per play in the first half — both awful averages. The Niners are in this game because the offense scored 10 points off the two turnovers the defense  created.
11:44 Niners have 53 rushing yards on 21 attempts. Panthers have 110 rushing yards on 17 carries.
11:52 Offensive line played well in the first half even though the Niners couldn't run the ball. The Panther are stacking the box. Gabbert has to back them up with long passes down the field. The offensive line is giving him all day to throw.
12:00 Gabbert throws a swing pass to Hyde for a one-yard loss on third-and-eight and the Niners go three-and-out. Terrible play. Terrible series.
12:11 Benjamin beats Ward for a 25-yard catch on third-and-7. Two plays later, Benjamin beats Ward for a 10-yard touchdown catch on second-and-9. 24-10 Carolina.
12:13 Keith Reaser extended that drive with an illegal contact penalty on third-and-5.
12:14 The 49ers' defense has gotten zero pressure on Newton today.
12:15 Ward gave up three catches for 51 yards and a touchdown to Benjamin on that drive.
12:19 Hyde gains two yards on first down, Gabbert misses two more throws and the Niners go three-and-out for the fifth time. They look like they've thrown in the towel.
12:23 First play of the Panthers' drive, Ginn Jr. beats Brock deep down the sideline for a 52-yard catch. The officials are reviewing the play to see if Ginn Jr. maintained control of the ball.
12:25 Catch stands.
12:29 On second-and-goal from the 9, Benjamin beats Ward for a 9-yard touchdown catch on a quick slant route. That's the second touchdown catch Ward has given up in the past 10 minutes. 31-10 Panthers.
12:38 Andrew Tiller is flagged for holding on third-and-5, and James Bradberry breaks up a pass intended for Torrey Smith on third-and-15. Panthers' ball at their 9 after the punt.
12:42 Newton runs a draw on third-and-7 and gains 14 yards a couple of plays before the end of the fourth quarter.
12:46 Newton escapes pressure on third-and-2, but Gerald Hodges strips him and Eli Harold recovers.
12:49 Star Lotulelei beats Marcus Martin to sack Blaine Gabbert on third-and-8. Phil Dawson makes a 39-yard field goal on fourth-and-14. 31-13 Panthers.
12:52 Ginn Jr. lets the kickoff bounce off his ankle and the 49ers recover at the 2. That's Carolina's fourth turnover of the game.
12:54 Gabbert runs into the end zone from one yard out on first and goal. 31-20 Panthers.
12:58 Ginn Jr. returns the kickoff 59 yards to the 49ers' 38.
1:06 Ahmad Brooks knocks down Newton's pass on third-and-three from the 49ers' 8.
1:07 Graham Gano makes a 31-yard field goal and the score is 34-20.
1:12 Gabbert throws a 20-yard pass to Vance McDonald who runs 55 yards untouched for a touchdown. 34-27 Panthers.
1:23 Gano makes a 49-yard field goal with 4:08 left. Panthers lead 37-27. Benjamin beat Chris Davis for a 27-yard catch on third-and-10 early in the drive. None of the 49ers' defensive backs can cover him.
1:26 Gabbert stares down a pass to Jeremy Kerley and Luke Kuechly picks it off. Vance McDonald dropped a deep pass down the seam the previous play.
1:31 Devin Funchess beats Bethea for a 16-yard touchdown on third-and-4.  But the Niners block the extra point! It's not over! Oh wait, yes it is. 43-27 Carolina with 3:31 left.
1:35 Gabbert gets picked by James Bradberry on fourth-and-10 and the Panthers have a chance to score 50.
1:43 Gano makes a 41-yard field goal. 46-27 Panthers. So far this season has been pretty much the same as last season.
1:45 Gabbert pads his stats with three short completions at the end of regulation and the Niners lose by 19. Stay tuned for grades.