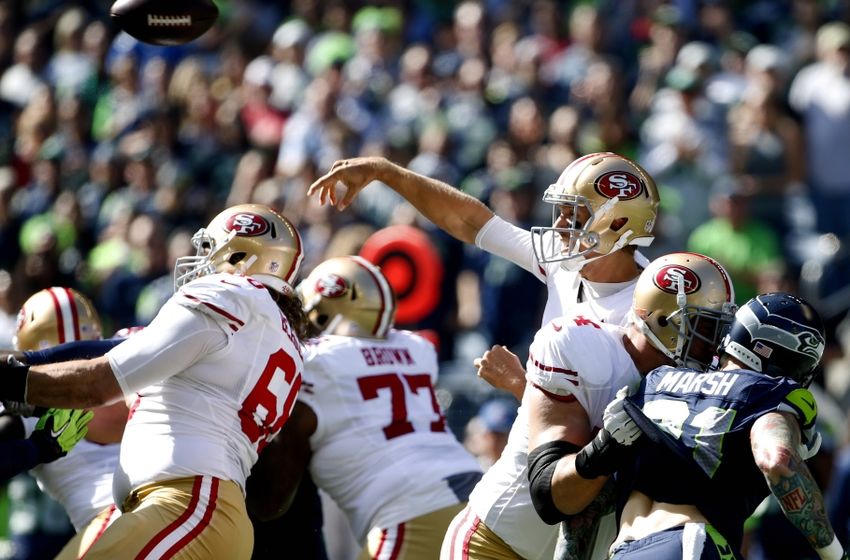 SANTA CLARA
This is the live blog for the 49ers' Week 4 home game against the Cowboys. I will update this frequently with information and analysis from the press box.
11:50 As you mentally prepare yourself to watch Blaine Gabbert play another game of football, here's a college quarterback you and the 49ers should get to know: Mitch Trubisky from the University of North Carolina. He beat Florida State yesterday.
Here's a video of Trubisky playing Pittsburgh earlier this season:
12:00 Here are the 49ers' inactives:
QB Christian Ponder
WR Keshawn Martin
CB Jimmie Ward
DT Tony Jerod-Eddie
OT John Theus
TE Vance McDonald
DT Taylor Hart
12:30 Here are the Cowboys' inactives:
QB Tony Romo
CB Orlando Scandrick
RB Darius Jackson
LB Mark Nzeocha
OG La'el Collins
OT Tyron Smith
WR Dez Bryant
12:40 I picked the Cowboys to win this game when the schedule came out, and I'm sticking that prediction. 20-13 Dallas. Expect Cowboys defensive Rod Marinelli to smother the 49ers' short passing game.
1:23 The Niners win the toss and defer.
1:32 Dak Prescott completes a screen pass to Lance Dunbar, and Antoine Bethea runs him down before the first-down marker on third-and-7. On fourth-and-two, Cowboys kicker Dan Bailey misses a 47-yard field goal wide left. Niners' ball at their 37-yard line. I would have gone for the two yards.
1:33 Eric Reid dropped an interception on that drive.
1:39 On third-and-7, Blaine Gabbert throws a 33-yard touchdown pass to Jeremy Kerley. Three plays earlier, Gabbert threw a 13-yard pass to Quinton Patton on third-and-12. Chip Kelly is making his receivers run past the sticks on third down today. What a surprise! 7-0 Niners.
1:47 NaVorro Bowman blitzes and sacks Dak Prescott for an eight-yard loss on third-and-4.
1:48 Niners start at their 20 after the punt.
1:56 On third-and-9, Gabbert throws a first-down pass to tight end Garrett Celek who ran a 13-yard route. Good play call by Chip Kelly. Two plays later, Gabert throws a 17-yard pass to Jeremy Kerley. First-and-10 from the Dallas 12 when the second quarter begins. Gabbert's passer rating is 154.2.
2:00 On third-and-1,  Carlos Hyde bounces his run to the outside and scores from three yards out. Beautiful 80-yard drive. 14-0 Nothing Niners. Funny how much better Gabbert plays when the head coach gives him a competent game plan.
2:10 On third-and-3 from the Dallas 43, Prescott throws behind Brice Butler. Incomplete. Cowboys punt, and the ball rolls out of bounds at the Niners' 6.
2:16 Tyronne Crawford beats Trent Brown to sack Gabbert for a seven-yard loss on first down. Two plays later, Gabbert checks down to Shaun Draughn on third-and-13 and the Niners punt.
2:26 Terrance Williams beats Tramaine Brock for a 20-yard touchdown catch on first-and-10. Perfect back-shoulder throw by Prescott. 14-7 Niners. Jaquiski Tartt extended that drive with an unnecessary roughness penalty against Prescott on third-and-6.
2:34 On third-and-3, Anthony Brown breaks up a five-yard pass intended for Jeremy Kerley. Then Bradley Pinion shanks a 26-yard punt. Cowboys' ball at their 42 with 1:50 left.
2:43 On first-and-goal from the 4-yard line, Brice Butler beats Brock for a touchdown catch. That's the second TD Brock has given up in the second quarter. Score is 14-14 with 12 seconds left. Prescott's passer rating is 119.7.
2:49 Story of the first half: Chip Kelly had an excellent game plan which the Cowboys were not prepared for. Then the Cowboys adjusted, and scored 14 unanswered points. Now Kelly must make in-game adjustments. Can he?
2:56 Gabbert threw for three yards in the second quarter.
2:59 The 49ers need to score on this drive. If they go three-and-out to start the second half, they will lose.
3:07 On third-and-14, Gabbert throws a one-hopper to Aaron Burbridge. Phil Dawson makes a 36-yard field goal. 17-14 Niners.
3:15 On third-and-9, Prescott completes an eight-yard pass to Jason Witten. On fourth-and-1 from midfield, the Cowboys decide to punt. Touchback.
3:19 On third-and-8, Kelly calls a five-yard pass for Carlos Hyde, and the Niners go three-and-out. Uh oh. Cowboys' ball at their 24 after the punt.
3:23 On second-and-10, Terrance Williams beats Keith Reaser for an 11-yard first-down catch. NaVorro Bowman injured himself during the play. Non-contact injury. He is down and Eric Reid is kneeling next to him. Brice Butler also knelt next to Bowman, and Glenn Dorsey tapped him on the shoulder as he walked off the field.
3:26 On first-and-15, Ezekiel Elliot gains 23 yards on a stretch run to the right. Rashard Robinson leaves the game with an injury.
3:31 On first-and-goal from the Niners' 18, Elliott runs through a gaping hole on the right side of the Cowboy's offensive line and gains 17. Next play, he scores. 21-17 Dallas.
3:37 On third-and-2 from the Niners' 30, Gabbert keeps the ball and runs for seven yards. First-and-10 from the 37 when the fourth quarter begins.
3:40 Bowman may have torn his Achilles' tendon. No word yet.
3:41 On third-and-2, Kelly calls a pass down the seam for Kerley. J.J. Wilcox breaks it up. Kerley was not open. Cowboys ball at their 10 after the punt.
3:48 Brice Butler kills the Cowboys' drive with a taunting penalty after a 9-yard catch on first-and-10. Kerley returns the punt to the Niners' 45.
3:51 First play of the drive, Kelly calls a deep shot to Torrey Smith, Gabbert misses short and wide right and the pass is intercepted by Morris Claiborne. Cowboys' ball at their 34. Smith throws his helmet on the sideline.
3:59 The Cowboys are missing two starters on their OL, and still are overpowering the 49ers up front.
4:02 Robinson breaks up pass intended for Butler in the end zone on third-and-goal from the 4. Dan Bailey makes a 22-yard field goal. 24-17 Cowboys with 4:11 left.
4:07 Gabbert has attempted eight passes since the first quarter. Eight.
4:11 Gabbert completes a five-yard pass to Kerley on second-and-11. Niners will face third-and-6 from the Dallas 35 after the two-minute warning.
4:14 Gabbert throws a 9-yard pass to Kerley on third-and-6 and the pass is incomplete. Kerley wasn't open. Kelly wants to go for it fourth down but can't get the play in on time and the Niners can't get lined up correctly, so he wastes a time out.
4:15 Gabbert rolls out, completes a 3-yard pass to Torrey Smith and the Niners turn over the ball on downs.
4:17 On first-and-10, DeForest Buckner suffers an injury after Elliot runs for two yards. The Niners seem very concerned. The defensive players all are kneeling around Buckner.
4:19 Buckner is limping off the field.
4:22 On second-and-13, Prescott completes a screen pass to Cole Beasley who runs for 47 yards. Game over. Stay tuned for grades.