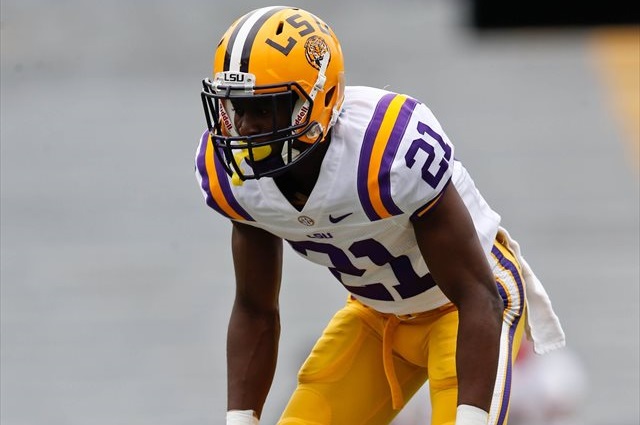 SANTA CLARA – Here's what stood out to me during the 49ers' third and final open OTA of the offseason.
THE GOOD
1. QB Blaine Gabbert. Completed 19 of 26 pass attempts (73 percent) during 3-on-3s, 7-on-7s and 11-on-11s. Gabbert's favorite receiver by far was slot receiver Bruce Ellington, who caught three of Gabbert's passes and dropped two. Don't be shocked if Ellington becomes one of the Niners' leading receivers next season. He already seems to have better chemistry with Gabbert than any other receiver including Torrey Smith.
2. OLB Eli Harold. Blew past second-team left tackle John Theus to tag-sack backup quarterback Thad Lewis on third-and-goal from the 8-yard line during a red-zone drill. Harold clearly is the 49ers' most explosive pass-rusher. We'll see how strong he really is when he puts on pads.
3. DE Arik Armstead. Pushed first-team right tackle Erik Pears all they way back into Gabbert's lap on third-and-goal from the 5-yard line. Armstead is by far the most powerful pass-rusher on the team, much more powerful than DeForest Buckner. But Buckner is just as difficult to block because he has a full repertoire of pass-rush moves.
4. CB Jimmie Ward. Dove to break up a pass intended for Quinton Patton who was running an out route – the route that gave Ward problems the first two week of OTAs.
5. CB Rashard Robinson. Played both left and right corner for the No. 2 defense and gave up no catches for the second practice in a row. Quarterbacks never tested him. Throughout OTAs, I've seen Robinson give up just one catch, and that was to Aaron Burbridge on a short curl route. Burbridge had to wrestle the ball away from Robinson to catch it.
6. CB Keith Reaser. The backup slot corner behind starter Chris Davis. Intercepted a pass that bounced off of DeAndrew White's facemask.
7. OT Fahn Cooper. The backup right tackle behind starter Erik Pears. Cooper gave up no pressure that I could tell. He held his ground against Ronald Blair, Kaleb Ramsey and Garrison Smith.
8. WR Aaron Burbridge. The backup flanker behind starter Torrey Smith, and the only receiver who beat Tramaine Brock. Burbridge beat him with a slant over the middle. No one on the 49ers fights harder for catches than Burbridge.
9. WR Bryce Treggs. The third-string slot receiver behind Bruce Ellington and DeAndrew White, and the only player who scored a touchdown today. Treggs beat backup safety Jered Bell to the back-left corner of the end zone during a red-zone drill, and Jeff Driskel hit Treggs in stride for an easy score.
10. WR Devon Cajuste. Returned to practice after spraining his ankle two weeks ago and seemed to move well, although he dropped his only target of the day.
THE NOT SO GOOD
1. CB Dontae Johnson. Seemed to injure his left knee during 11-on-11s. Johnson laid on the ground for at least a minute and a half before he hopped off the field unable to put weight on his injured leg.
2. CB Chris Davis. The starting slot corner for the second practice in a row. Davis seemed to get trampled during a run play up the middle, and had to leave practice after that play.
3. WR DeAndre Smelter. Rode a stationary bike during team drills.
4. G Brandon Thomas. Participated in individual drills but not team drills. With Thomas out, Andrew Tiller was the starting right guard and Alex Balducci was the second- and third-team right guard.
5. WR Quinton Patton. Finally caught his first pass in front of the media – a three-yard gain on a crossing route. NaVorro Bowman seemed to catch the ball as well, but the coaching staff gave Patton credit for the catch. The rest of practice, Patton received three more targets and failed to catch all three. Each time, he let a defender step in front of him and slap the ball away to the ground. Patton does not fight to make contested catches. Burbridge is better than Patton right now.