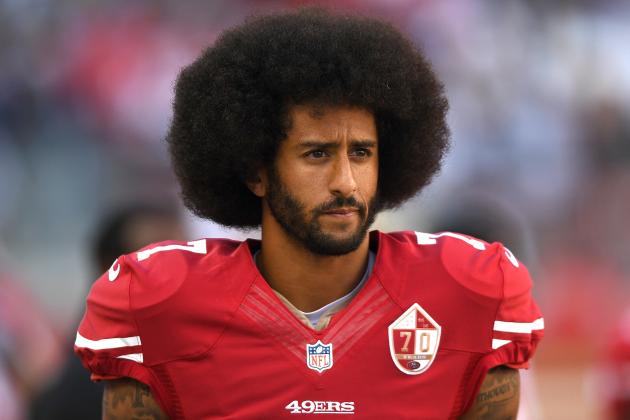 SANTA CLARA
Colin Kaepernick spoke in the 49ers' locker room Tuesday afternoon. Here's a transcript.
Q: Can you talk about the interaction you had with Coach Chip Kelly, and what your reaction was when he told you you'd be starting?
KAEPERNICK: Had a brief conversation before we got going for practice. He told me I was up this week. Excited about it. Ready to go. Hoping I can bring more to this team and try to get us a win this Sunday.
Q: How do you feel physically?
KAEPERNICK: Good. I'm ready to go. We had a few days off, so back at it. Getting ready.
Q: You spoke in June about changing your physique and not being as bulky as you had been. Is that still the plan? Are you going to be the same physically now as you were last year at this time?
KAEPERNICK: My biggest thing is trying to focus on strength and make sure I'm physically ready to play. Whether that means my weight is higher or lower, I don't think that's a huge deal. More so where my strength is at, and I feel very comfortable with that.
Q: Are you 100 percent?
KAEPERNICK: Yes. 100-percent ready to go.
Q: You were wearing a tinted visor today during practice. Is that something that has been approved by the NFL yet, and why were you wearing that in practice if it hasn't been approved?
KAEPERNICK: I've been wearing it in practice since the spring, so I've been wearing it a long time. Hasn't been officially approved, so still working on that.
Q: How was practice today?
KAEPERNICK: It was great to be back out there, start to get that timing down, get ready for this Sunday's game. Hopefully we can make some things happen.
Q: There was a report that you and the team were trying to rework your contract to get you back on the field. Has something like that happened?
KAEPERNICK: We have had conversations. Really don't want to get into details about that, but those conversations have gone on.
Q: Do you feel there was a business element as to why you weren't playing?
KAEPERNICK: Uh, I really don't know. You would have to ask the people upstairs about that. My biggest thing is focusing on football and trying to do what I can to help this team win.
Q: Has the contract stuff been resolved?
KAEPERNICK: We're still in discussions.
Q: When you look at the offense during this four-game losing streak, what do you think the offense was missing?
KAEPERNICK: I think there's just small things here and there that we need to clean up, need to correct as a whole. Hopefully those are things that we progress on this week, and it shows Sunday and helps us get a win.
Q: Do you feel you're a more confident quarterback now?
KAEPERNICK: I think I've always been confident. It's something that I'm ready to step on that field, I'm ready to play. It's been about a year since live-game action, so I'm itching to get out there.
Q: Torrey Smith said you're happier this year. Why do you think you're happy?
KAEPERNICK: I think I've always been happy, but more than anything I'm comfortable and at peace with myself and my relationships, and with everything that's going on in my life. I think that reflects, and I think that's what he's referring too.
Q: Do you think the rest of the season is a good chance for you to relaunch your career?
KAEPERNICK: It's a great opportunity to go out and win some games. That's ultimately what the goal is. We're going to focus on the Buffalo Bills this week.
Q: Regarding the restructuring of your contract, is the ball in your court as far as if you want to sign that?
KAEPERNICK: Once again, not going to get into details on that. We have had discussions.
Q: Do you feel like you've grown as a leader now that you've become this national spokesperson? Do you think you're a better football leader?
KAEPERNICK: That's a better question for my teammates. For me, I try to carry myself confidently and appropriately whatever environment I'm in. Hopefully that reflects and my teammates feel that way and I can lead this team to victory.
Q: Are you still getting an avalanche of mail, and what do the letters say?
KAEPERNICK: A lot of mail has come in. I really don't spend too much time going through it. I still have a job to do. Still have to focus on football and spend most of my time doing that. That's where my focus is.
Q: A lot of people have said you're a good fit for Chip Kelly's offense. Now that you've been in it for a little while, are there things that you see that make you a good fit that make you excited to play in it?
KAEPERNICK: Yeah, I think there are a lot of great things this offense does and allows the quarterback to do. Like I said in the past, it's similar to things I've done in college. That makes me feel very comfortable.
Q: Where do you see yourself a year from now?
KAEPERNICK: I have no idea. My focus right now is the Buffalo Bills. I'm not thinking a year out right now.
Q: Do you feel any sort of pressure to have a reworked contract before you start a game?
KAEPERNICK: No, I feel no pressure.