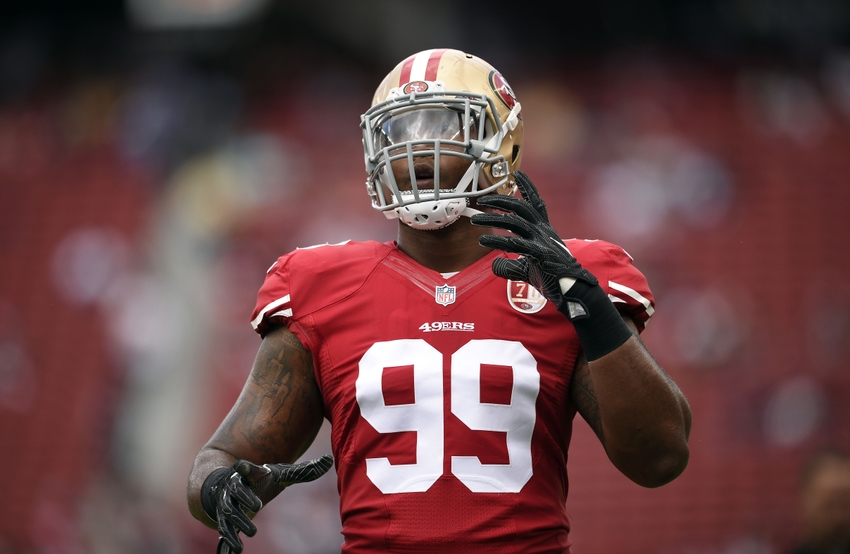 These are the grades for the 49ers' 34-17 loss to the Buccaneers.
QUARTERBACK: D. The good news: Colin Kaepernick was the 49ers' most dangerous player on offense. He led the team with 84 rushing yards on nine carries – 9.3 yards per attempt.
The bad news: Kaepernick fumbled twice and threw 34 times for just 143 yards – 4.2 yards per attempt. He lost all confidence in his arm after he got picked off throwing a pass outside the numbers and to his left during the second quarter. Déjà vu. His passer rating this season now is a dreadful 66.3. Blaine Gabbert's rating was 69.6 before he got benched. How is Kaepernick an upgrade?
RUNNING BACKS: F+. Mike Davis started the game in place of the injured Carlos Hyde, and finished the game with 21 measly yards on seven rushing attempts. Bust. The 49ers' best running back, DuJuan Harris, wasn't much better. He rushed 11 times for 39 yards. Shaun Draughn, the Niners' No. 3 running back, led the team with five catches and one touchdown reception. Sad.
WIDE RECEIVERS: F-. Torrey Smith led all receivers with 17 yards. He caught one pass. Shameful. Chip Kelly never called a deep throw to Smith even though Smith caught one for a touchdown last week and the Niners have nothing to lose. Strange.
TIGHT ENDS: F. Garrett Celek caught one-of-three passes that came his direction, and Vance McDonald caught one of six. Laughable.
OFFENSIVE LINE: D. Joshua Garnett, a first-round pick, gave up a sack for the second game in a row. He is terrible and does not deserve to start over Andrew Tiller, who got benched for no good reason. Collectively, this group gave up four sacks and struggled creating holes in the running game for the running backs who gained just 76 yards on 19 carries (four yards per attempt). To make matters worse, Draughn gained 16 of those yards on one run during fourth-quarter garbage time. Unacceptable.
DEFENSIVE LINE: Z. The Buccaneers' game plan was to run the ball directly at DeForest Buckner, then directly at Arik Armstead, then directly at Buckner, then directly at Armstead until the game was over. This game plan worked beautifully. Tampa's offensive linemen took turns manhandling Buckner and Armstead, who looked like pieces of drift wood getting washed out to sea by the tide. They are bad football players.
LINEBACKERS: F. Gerald Hodges intercepted a tipped pass, and he gets credit for that. But this group gave up 249 rushing yards on 41 carries – 6.1 yards per attempt. Fail.
SECONDARY: F. Rookie cornerback Rashard Robinson, the lone bright spot on the team the first-six weeks of the season, gave up two touchdown catches and left the game with a knee injury. This was the third time he had to leave a game with an injury during his seven-week career. Brittle.
SPECIAL TEAMS: F-. Aaron Burbridge ran into his teammate, Jeremy Kerley, as Kerley was trying to make a fair catch during the third quarter. Then Kerley fumbled, the Bucs recovered and the 49ers quit just as they do every week when something bad happens. This team is soft, much softer than it was under Jim Tomsula.
COACHES: Z-. Chip Kelly once again fired all of his bullets during the first quarter, and made zero helpful in-game adjustments. The Niners scored just three points after the first quarter.
At his post-game press conference, I asked Kelly what adjustments he made at halftime.
"In terms of what?" Kelly asked.
"On offense," I said.
"On offense? We talked about protection. We had some matchup problems with (Gerald) McCoy. He got isolated and was in one-on-one, so we had to make sure that we had some help to his side, whether it was a back, get our back in there to make sure we have protection for that 3-technique in terms of where he is. Most of the talk at halftime was about protection."
Protection, eh? Interesting answer. In the first half, the 49ers gave up one sack. In the second half, they gave up three.
Nice adjustments, Chip.
Grant Cohn writes sports columns and the "Inside the 49ers" blog for The Press Democrat's website. You can reach him at grantcohn@gmail.com.