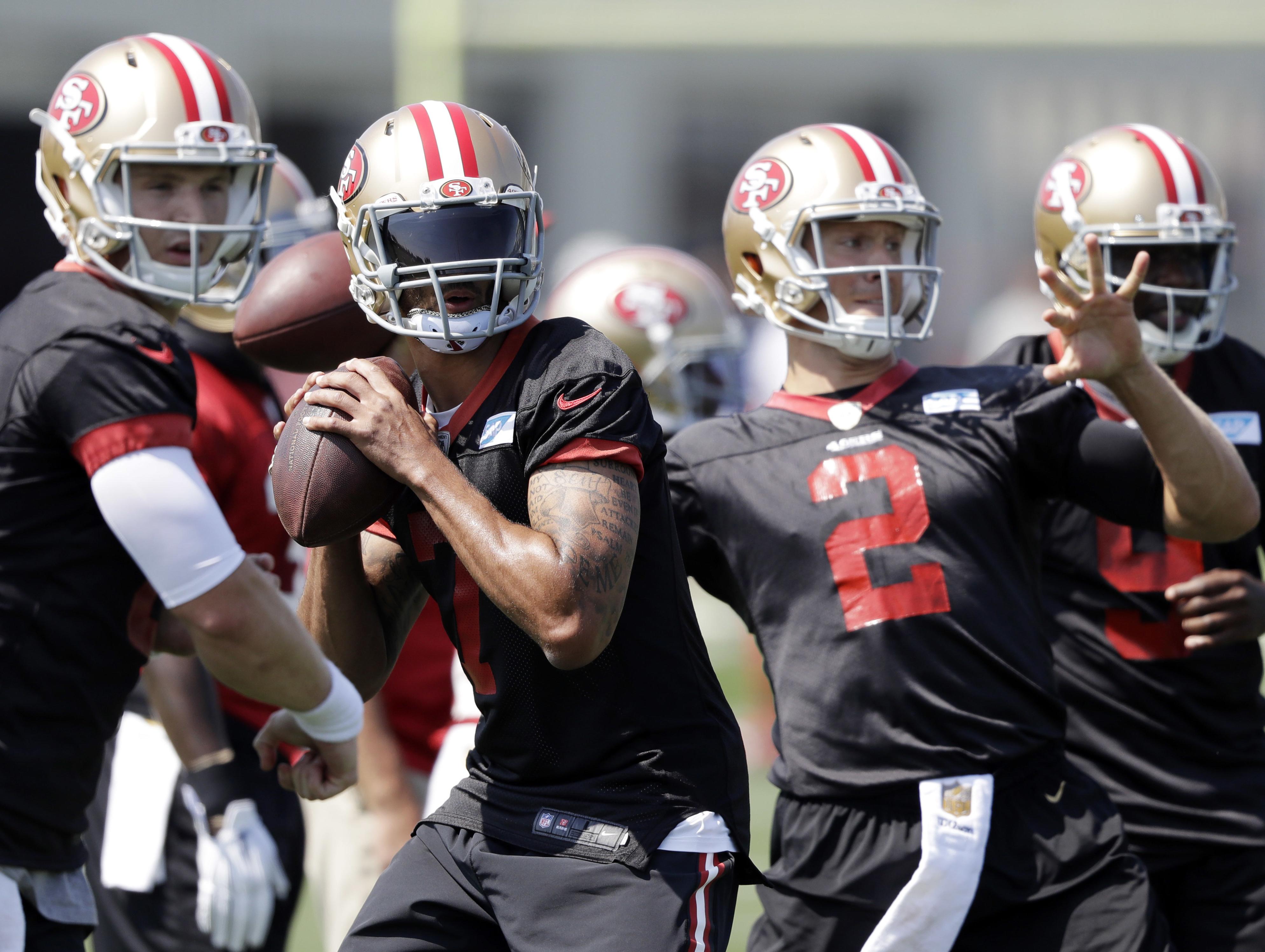 SANTA CLARA – Here's who stood out to me during the third day of training camp.
THE GOOD
1. WR Quinton Patton. The best wide receiver on the field today. Caught three passes during team drills (4 on 3, 7 on 7 and 11 on 11). Beat Jimmie Ward once with a quick curl route. Also beat zone coverage (Cover 2) once with a deep catch down the left sideline. Seems much more effective when he's in space toward the edge of the field than when he's in traffic over the middle.
2. CB Will Redmond. The backup slot cornerback during every team drill. Quarterbacks challenged him zero times in coverage for the third day in a row.
3. CB Dontae Johnson. Intercepted a deep, underthrown Colin-Kaepernick pass intended for Jerome Simpson during 1-on-1 drills.
4. OLB Tank Carradine. Broke up a pass intended for third-string slot receiver Bryce Treggs during 7 on 7s, and set a powerful edge against the run during 11 on 11s. Defensive coordinator Jim O'Neil was so impressed with Carradine's run defense after one play, O'Neil ran onto the field and bumped chests with him.
5. RT Anthony Davis. Held his ground during 1-on-1 pass-rushing drills against the 49ers' most powerful pass rusher – Arik Armstead. Davis won every matchup.
6. TE Vance McDonald. Caught five passes and dropped none during team drills while primarily running shallow crossing routes and deep corner routes. The Niners clearly want use his speed and get him into "space," which is the smart way to use him. McDonald can't catch passes in traffic.
7. TE Je'Ron Hamm. Caught four passes and dropped none during team drills while primarily running stick routes and seam routes. Hamm was by far the most reliable tight end today at catching passes in tight areas.
8. ILB Nick Bellore. Broke up two throws over the middle which Kaepernick telegraphed. Both times, Bellore stared at Kaepernick while Kaepernick stared down his intended target, then broke on the pass while Kaepernick still was going through his elongated windup.
9. QB Jeff Driskel. Completed 11-of-14 passes with the third-team offense and made the throw of the day. Torrey Smith was running a corner route against Cover 2 zone defense. Driskel threw the pass before Smith made his break, the ball floated over leaping cornerback Keith Reaser, who was covering a zone in the flat, and hit Smith's hands before the safety could run over and knock it down. Perfect throw. Do you think Driskel will start a game next season?
10. QB Colin Kaepernick. Attempted 16 passes while playing with the starters, and completed 17 of his 25 throws during team drills. Completed a deep pass to DeAndrew White while taking a shot from DeForest Buckner, who knocked Kaepernick on his back. The coaches said nothing. They clearly seemed more interested in Buckner's hit than Kaepernick's safety. I wonder why?
11. QB Blaine Gabbert. Completed 17 of his 26 passes during team drills, including a deep touchdown pass to Torrey Smith. This was the second day in a row Gabbert threw a deep TD pass.
THE NOT SO GOOD
1. CB Rashard Robinson. Gave receivers too much cushion most of practice. Got beat once by Eric Rogers who was running a deep hook route, once Aaron Burbridge who was running a slant and once by DeAndrew White who also was running a slant. At one point during practice defensive backs coach Jeff Hafley walked over to Robinson to say something to him. Robinson seemed to blow him off and walk away.
2. CB Jimmie Ward. Gave up one catch to Eric Rogers who was running a deep out route. Gave up another catch to Quinton Patton who was running a quick curl route. And gave up a third catch to Torrey Smith who burned Ward with a simple post route. Ward seemed lost all day.
3. TE Blake Bell. Dropped two easy passes during team drills and caught zero. Has shown no improvement as a receiver since last season.
4. DC Jim O'Neil. Routinely made his outside linebackers cover wide receivers man to man downfield. On any given play you'd see Aaron Lynch, Ahmad Brooks, Eli Harold, Corey Lemonier or Tank Carradine flailing around downfield with their backs to the quarterback. Using these players in man coverage is a terrible strategy, and a prime example of a coach sticking to his system instead of adjusting to the talents of his players. Sinful.