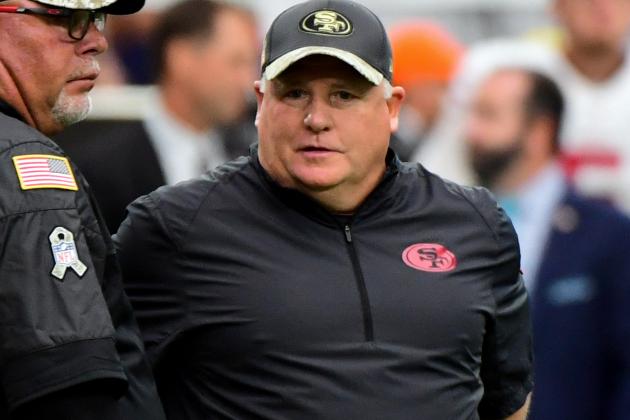 SANTA CLARA — This is the live blog for the 49ers' Week-12 game against the New England Patriots. I will update this frequently with information and analysis from the press box.
12:00 Here are the 49ers' inactives:
WR Torrey Smith
OLB Aaron Lynch
QB Christian Ponder
RB Mike Davis
OT John Theus
TE Je'Ron Hamm
DT Chris Jones
12:04 Here are the Patriots' inactives:
TE Rob Gronkowski
LB Jabaal Sheard
WR Chris Hogan
RB DJ Foster
OT LaAdrian Waddle
CB Justin Coleman
DL Woodrow Hamilton
12:04 Patriots' running back Dion Lewis is active.
12:04 Rookie wide receiver Aaron Burbridge is starting in place of Torrey Smith.
12:05 Last week, Chip Kelly and Jim O'Neil allowed the Cardinals to pick on LB Nick Bellore in the passing game at will, which cost the 49ers' the game. Following that loss, Kelly and O'Neil defended their use of Bellore publicly all week. Privately, they had to know they messed up. Expect them to take Bellore off the field on passing downs and replace him with S Jauquiski Tartt. Kelly and O'Neil would be crazy not to.
12:11 Do you think the 49ers will touch Tom Brady today? If so, how many times? Once? Twice?
1:23 The Patriots win the toss and defer.
1:28 Colin Kaepernick takes a sack on first and third down, and the Niners go three-and-out. After the second sack, Joshua Garnett was the only player on the offense to walk over to Kaepernick and help him up. Hmmm.
1:29 Patriots start at the 49ers' 27 after a long punt return by Danny Amendola.
1:34 On third-and-three from the 49ers' 4-yard line, Keith Reaser gives up a touchdown catch to Julian Edelman in the back-right corner of the end zone. 6-0 Patriots after a missed extra point.
1:46 On third-and-goal from the 6, Dont'a Hightower sacks Kaepernick and strips the football. Kaepernick recovers after a 9-yard loss. Phil Dawson makes a 33-yard field goal. 6-3 Patriots.
1:57 On first-and-goal from the 9, Tom Brady completes a screen pass to James White who runs over Rashard Robinson on the way to the end zone. Touchdown. 13-3 Patriots. Earlier in the drive, Glenn Dorsey got pushed out of his gap and LeGarrette Blount ran for 44 yards. Eric Reid made a business decision and got out of Blount's way during that run.
2:04 On third-and-8, Trent Brown gives up a sack to Kyle Van Noy. Four sacks already. Whew!
2:13 The Patriots kill their own drive with a holding penalty that negated a long touchdown run by Blount, followed by an intentional-grounding penalty on Brady. Niners' ball at their 8-yard line after the punt.
2:24 Kaepernick throws an 18-yard touchdown pass to Vance McDonald on first-and-10. Nice throw. Nice catch. 13-10 Patriots.
2:31 DeForest Buckner sacks Brady on third-and-15, and the Patriots go three-and-out.
2:32 Niners' ball at their 39 after a 36-yard punt.
2:34 Kaepernick scrambles and fumbles on second-and-9. Trent Brown recovers. On third-and-8, Kaepernick completes a 4-yard Gabbert-esque pass to Shaun Draughn, and the Niners go three-and-out.
2:49 The Patriots score no points before halftime. They will receive the ball to start the third quarter.
2:59 Brady completes an 8-yard pass to James White and third-and-9 and the Patriots go three-and-out.
3:05 Logan Ryan breaks up a pass intended for Jeremy Kerley on third-and-2 from the 49ers' 39.
3:14 Jimmie Ward breaks up a pass intended for Edelman on third-and-7 from the 49ers' 47.
3:20 Kaepernick throws behind an open Vance McDonald on third-and-9 from the Patriots' 45. Bradley Pinion's punt bounces into the end zone. Touchback.
3:29 Eric Reid misses a tackle during a 13-yard catch-and-run by Edelman on third-and-2 from the Niners' 22. Next play, Dion Lewis runs up the middle for nine yards. Second-and-goal from the 6-yard line when the fourth quarter starts.
3:31 Brady spins away from Buckner and, while falling down, throws a touchdown pass to Amendola. 20-10 Patriots.
3:32 By the way, the 49ers have scored 16 points in the third quarter this season. That's 1.6 points per third quarter.
3:39 Eric Rowe breaks up a deep pass intended for Kerley on third-and-6 and the Niners go three-and-out. Patriots' ball at their 30 after the punt.
3:41 Tom Brady overthrows an open Edelman on third-and-9  and the Patriots go three-and-out. Another moral victory for the home team!
3:46 On first-and-10, Kaepernick has good protection and an open Vance McDonald deep down the field. Kaepernick side arms the throw for some reason and overthrows the pass. But mechanics don't matter. Niners go three-and-out.
3:55 On third-and-8, Brady steps up in the pocket and throws a 56-yard touchdown pass to Malcolm Mitchell, who ran right past Tramaine Brock, who was still covering Danny Amendola and not looking at the ball. Classic.
4:01 Kaepernick almost throws picks on both second and third down, and the Niners go three-and-out.
4:07 Steven Gostkowski makes a 38-yard field goal. 30-10 New England.
4:18 Kaepernick throws a 13-yard touchdown pass to Shaun Draughn on first-and-10. That's called garbage-time production. 30-17 New England.
4:19 Amendola recovers the on-side kick.