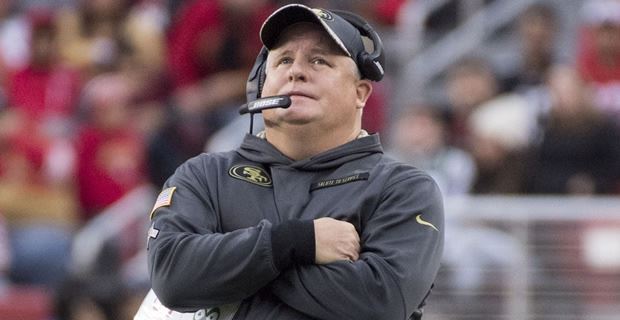 SANTA CLARA
This is the live blog for the 49ers' Week 17 game against the Seattle Seahawks. I will  update this frequently with information and analysis from the press box.
11:43 The latest 49ers rumor seems to involve Scott Pioli (a product of Bill Belichick) as the next GM, Josh McDaniels as the next head coach and Jimmy Garoppolo as the next quarterback, which would be a total New-England-like face lift. But for this to happen, the Niners would have to wait for the Patriots to fall out of the playoffs, and that wait could last until after Super Bowl Sunday.
11:55 Interesting tweet:
Chip Kelly called 49ers owner Jed York last night after reports broke of his impending firing. It was not a warm and fuzzy conversation.

— Michael Silver (@MikeSilver) January 1, 2017
11:56 Here are the 49ers' inactives:
QB Blaine Gabbert
RB Mike Davis
CB Prince Charles Iworah
G Andrew Tiller
DT Tony Jerod-Eddie
OLB Tank Carradine
DT Zach Moore
Joe Staley is starting a left tackle, Andrew Gardner is starting a left guard and Zane Beadles is starting at center.
11:59 And here are the Seahawks' inactives:
RB C.J. Prosise
RB Terrence Magee
SS Tyvis Powell
LB Ronald Powell
OT Bradley Sowell
TE Nick Vannett
DT John Jenkins
12:05 Colin Kaepernick has been signing autographs and posing for pictures with fans the past five minutes. Good to see he's focused on the game.
12:36 When Trent Baalke arrived at Levi's Stadium this morning he declined to comment, which in itself is a comment. He could have said the rumors are baseless. He's out.
1:02 I still say the top coaches on the 49ers' list should be Nick Saban and David Shaw.
1:23 The Seahawks win the toss and defer.
1:27 Colin Kaepernick and Shaun Draughn botch a zone-read handoff on the second play of the game and the Seahawks recover at the Niners' 21-yard line.
1:30 Jimmy Graham drops a pass on third-and-2. Steven Hauschka makes a 31-yard field goal. 3-0 Seattle.
1:37 Shaun Draughn runs up the middle for a one-yard touchdown. That should save Chip Kelly's job, right? 7-3 Niners.
1:42 Russell Wilson throws the ball away on third-and-8 and the Seahawks go three-and-out. They have no running game.
1:51 Jeremy Kerley runs a shallow cross and gains six yards on third-and-7 from the Seahawks' 30-yard line. Then on fourth-and-1, Draughn runs up the middle and gains one yard.
2:00 Kam Chancellor tackles Draughn after no gain on third-and-goal from the 1 just before the first quarter ends.
2:03 Draughn runs up the middle for a touchdown on fourth-and-goal. 14-3 Niners.
2:06 Bradley Pinion's kickoff rolls out of bounds. Seahawks get the ball at their 40.
2:14 Wilson throws the ball past the back of the end zone on third-and-8 from the 49ers' 13. Hauschka makes a 32-yard field goal. 14-6 Niners.
2:20 Ahtyba Rubin strips DuJuan Harris and Frank Clark returns the fumble to the 49ers' 15.
2:23 Rashard Robinson gives up an 11-yard touchdown catch to tight end Luke Willson two plays later. 14-13 49ers.
2:31 Jeremy Lane breaks up Kaepernick's short pass to Kerley on third-and-8 from the 49ers' 44. Seahawks ball at their 9 after the punt.
2:34 Rashard Robinson suffers a leg injury after giving up a 41-yard catch to Doug Baldwin.
2:37 Jimmy Graham posts up at the 1-yard line and boxes out Antoine Bethea for a 42-yard catch. Thomas Rawls scores a one-yard touchdown run on the next play. 19-14 Seahawks after the 49ers block Hauschka's extra point.
2:44 Frank Clark strips Kaepernick on third-and-2, and Kaepernick recovers the fumble. The Seahawks call timeout with 1:48 left.
2:48 Wilson scrambles for three yards on third-and-4, and the Niners take their second timeout with 36 seconds left in the half.
2:50 Draughn runs into Clark for a 2-yard loss on third-and-1, and the Seahawks call timeout with two seconds left.
2:52 Kaepernick takes a knee on fourth down and the half ends.
3:06 Wilson tries to pump fake and the ball slips out of his hand on third-and-7 from the Seahawks' 39. The officials rule the play an incomplete pass. Chip Kelly is challenging the ruling.
3:17 The officials confirm their ruling and charge the 49ers with their first timeout of the second half.
3:18 Kerley makes a fair catch at the 49ers' 24.
3:20 Kaepernick throws off his back foot on second-and-15 and misses Draughn, who was open. And on third-and-15, Kaepernick tries to scramble — big surprise there — and gets sacked by Michael Bennett for a loss of 10. Seahawks' ball at their 41 after the punt.
3:26 Wilson throws the ball away on third-and-12 from the Niners' 15, and Haushka makes a 33-yard field goal. 22-14 Seahawks.
3:32 Kaepernick completes a 13-yard pass to Chris Harper on third-and-14 and Kelly wisely chooses to punt on fourth-and-1.
3:37 Wilson overthrows Jermaine Kearse on third-and-10 from the Seahawks' 14, and then Seattle's long snapper snaps the ball over the punter's head and out the back of the end zone. Safety. 22-16 Seattle.
3:42 On third-and-11, Kaepernick slides in the pocket for a loss of seven. That's a new one.
3:47 Wilson trips and falls at the 49ers' 21-yard line just before the end of the third quarter. Second-and-16 when the fourth quarter begins.
3:53 Hauschka makes a 28-yard field goal, and the Seahawks lead 25-16 with 14:08 left.
3:53 By the way, the 49ers had negative-9 net yards in the third quarter.
3:58 Kaepernick completes an eight-yard pass to Harper on third-and-12, and Kelly wisely chooses to punt again.
4:04 The Seahawks bring in their backup quarterback with nine minutes left and go backward. During the punt return, Kerley throws across the field to to Mostert who runs 29 yards to the Seahawks' 35.
4:11 Kaepernick throws a 9-yard touchdown pass to Garrett Celek on second-and-goal, and players start fighting  on the field after the extra point, which was good. The officials kick out Seahawks defensive lineman Jarran Reed and flag Seattle 15 yards. 25-23 Seattle.
4:28 Trevone Boykin runs for 11 yards on second-and-10 and the clock runs out. The 49ers couldn't beat a team that was trying to lose. Stay tuned for grades!