1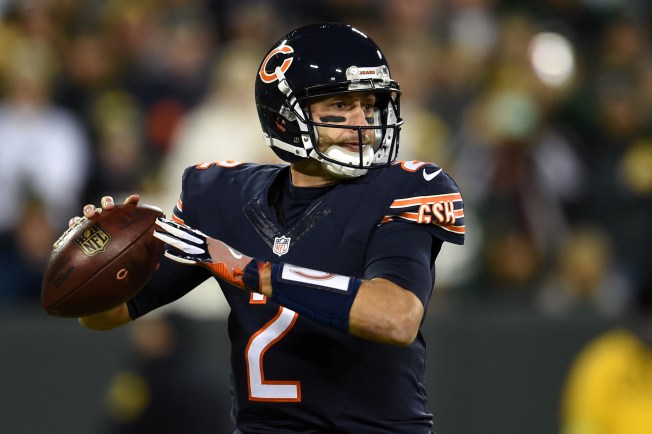 SANTA CLARA
Here's what stood out to me Tuesday.
THE GOOD
1. QB Brian Hoyer. I haven't seen a 49ers quarterback play this well during practice since Alex Smith was on the team. Hoyer was in total command of the offense, made quick decisions in the pocket and completed 13-of-15 passes during team drills. Both of his incomplete passes were long throws intended for Marquise Goodwin, who stopped running during one play because he seemed to injure his hamstring. More on Goodwin below. Hoyer clearly is the best quarterback on the 49ers roster and seems on track to have a good season if he stays healthy.
2. CB Keith Reaser. I expected veteran Dontae Johnson or rookie third-round pick Ahkello Witherspoon would replace Tramaine Brock in the starting lineup, but I was wrong. Reaser replaced Brock. Reaser started on the right side of the defense, opposite second-year corner Rashard Robinson, and didn't allow a single catch. Reaser seems to have a good chance to make the final roster, as opposed to Dontae Johnson, who may be on the bubble. Johnson probably will compete with rookie seventh-round pick Adrian Colbert for one spot.
3. WR Jeremy Kerley. When the 49ers traded for Anquan Boldin in 2013, he dominated practices the moment he arrived on the team, sometimes making seven or eight catches in an afternoon. I thought Pierre Garcon would have a similar impact this offseason, but so far he hasn't done much. The 49ers' best receiver has been Jeremy Kerley. Most of the time he faces starting nickelback K'Waun Williams, who simply can't cover him. Look for Kerley to be a go-to player on third downs.
4. FS Lorenzo Jerome. The undrafted rookie intercepted a pass for the second time in front of the media this offseason. Today, he picked off third-round pick C.J. Beathard, who threw behind his intended receiver, Victor Bolden. Jerome always seems in the right place to make a play, unlike starting free safety Jimmie Ward, whom I haven't seen make any plays yet this offseason. Maybe Ward is still learning his new position.
5. RB Tim Hightower. Hightower split time on the first-team offense with incumbent starter Carlos Hyde, who never seemed to find a hole Tuesday afternoon. Hyde mostly ran into the backs of his blockers or got tagged by defenders behind the line of scrimmage. Hightower was more successful. He found a hole and broke through the defense for a 60-yard touchdown run. He seems more comfortable than Hyde in Shanahan's outside zone running scheme, which makes sense because Hightower has experience in it and Hyde is still adjusting.
6. RB Kapri Bibbs. Like Hightower, Bibbs found a hole and ran through the defense for a long touchdown. And like Hightower, Bibbs has experience in the 49ers' current style of running game. Bibbs and Hightower were the best running backs on the field today.
After practice, Shanahan explained how he assesses running backs during OTAs when players don't tackle or wear pads: "There is an art to hitting the right gap, running full speed and going to where the guy in the defense is out of position. I always joke with the backs, I can see it every time when I have a remote in my hand and it's very slow. I can say, 'Oh, you should have gone there.' No one plays running back with a remote in their hand – they just run and it comes natural. So, you try to see who naturally runs to the right spots. There are guys who aren't the most-flashy running backs to the naked eye, but for some reason they have a better yards-per-carry then everyone else does and that's because they get to the right hole and it's always four yards, six yards. And whatever the offense blocks for them, they usually get two more. So, we try to see who the most natural runners are, who it's not too big for and their conditioning and how hard they go."
THE NOT SO GOOD
1. DE Aaron Lynch. Two weeks ago, I wrote that Lynch was "a cool 20 pounds overweight," and guessed that he weighed at least 290. Today, he looked a bit trimmer, but not much, and he played only with backups.
After practice, here's what Lynch told reporters: "I came in heavy, but I'm working my a– off to get down to where my coaches want me to get down to…I've still got a long ways to go."
Q: What is the coaching staff's target weight for you?
LYNCH: "270, 260. In that range."
Q: And what are you right now?
LYNCH: "I'm like more in the 280s right now."
That means Lynch still has to lose between 15 and 20 pounds to make the team.
2. WR Marquise Goodwin. During seven-on-sevens, Goodwin stopped running mid-play and grabbed his left hamstring. He returned to practice, but caught just one pass and played sporadically. In four seasons, Goodwin already has missed 25 games due to various injuries, including a pulled hamstring in 2014. The Niners are depending on him to stay healthy this season. Can he do it?
3. RT Garry Gilliam. The Niners signed Garry Gilliam because he's fast, which makes him a better fit for Shanahan's outside-zone running game than last year's starting right tackle Trent Brown, who isn't fast. But Brown is a good pass-protector, and Gilliam isn't. Today, Gilliams was horrible. Couldn't block Arik Armstead or Ronald Blair, who pushed him into the quarterback easily.
4. QB Matt Barkley. The 49ers backup quarterback completed just 7-of-12 passes, sailed two throws about five feet over the heads of his intended targets and fumbled once even though the defense couldn't touch him. I'm still not sure how Barkley pulled off that last one.
5. QB C.J. Beathard. The controversial third-round pick completed only three passes in eight attempts and threw one interception. He seems like he'll need at least one year on the bench before he can play.