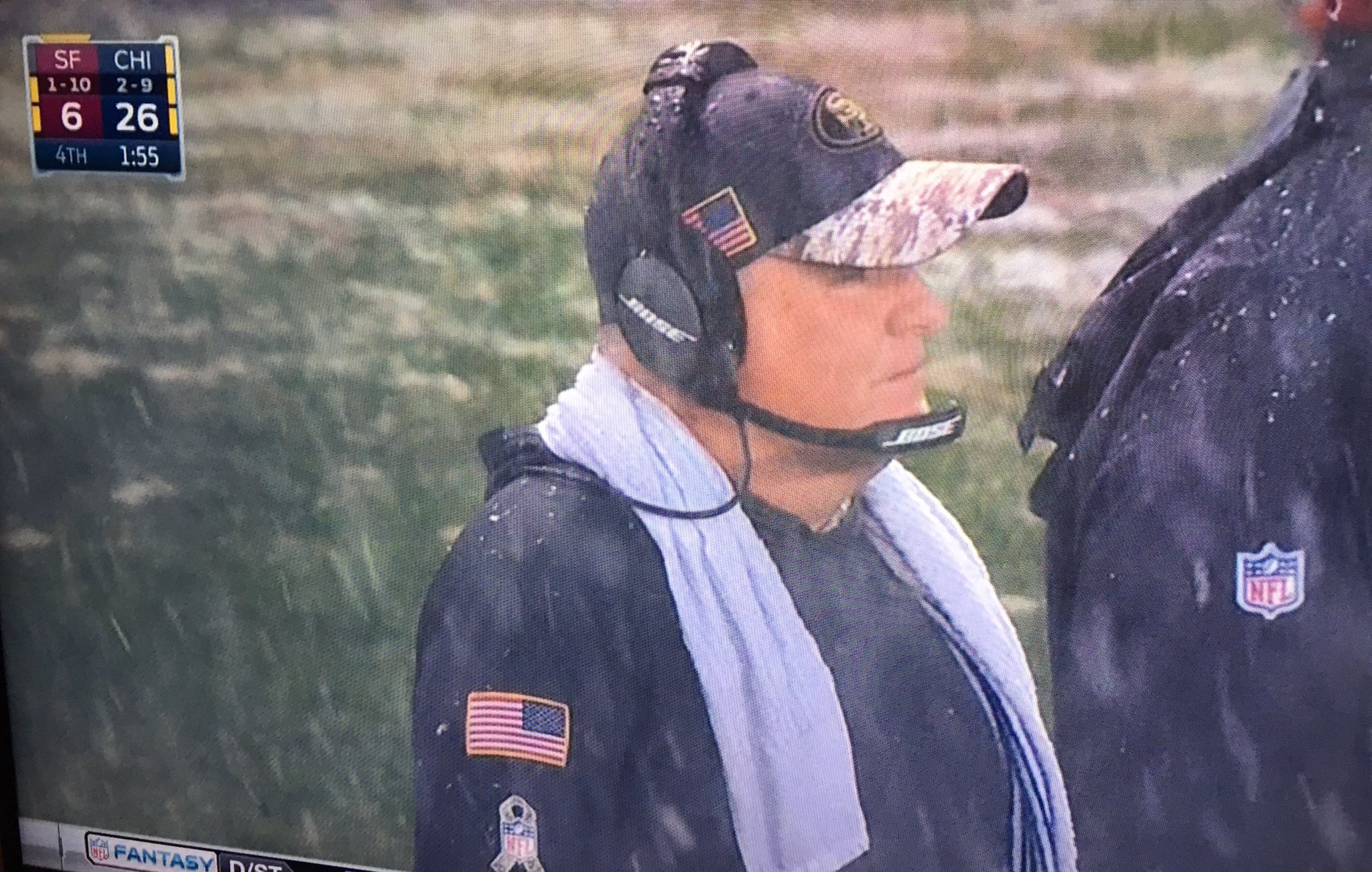 These are the grades for the 49ers' 11th loss in a row – a 26-6 loss to the Chicago Bears.
QUARTERBACKS: Z-minus. Five hours before kickoff, Ian Rapoport tweeted Colin Kaepernick would opt out of his contract next year, presumably to take advantage of his rising stock after some said he played well the past four games. Kaepernick might want to rethink that decision. Today, he completed one pass for five yards and got benched in the fourth quarter. Opting out would do the 49ers a favor. His replacement, Blaine Gabbert, surpassed his predecessor's production with his first throw – an 18-yard completion to Jeremy Kerley. Then, Gabbert missed six of his next nine passes and got sacked in the end zone for a safety. Still, Gabbert was better than Kaepernick, which isn't saying much. The Niners must not bring back either quarterback next season. They're both terrible.
RUNNING BACKS: B+. Carlos Hyde rushed for 92 yards and averaged 4.6 yards per carry even though everyone knew he would get the ball. Can't blame him for this loss. He was the Niners' best player for the second game in a row.
WIDE RECEIVERS: Incomplete. Can't grade players that got very few opportunities to catch the ball and, when they did get opportunities, the quarterbacks missed them almost every time.
TIGHT ENDS: Incomplete-minus. What I wrote about the wide receivers, although Vance McDonald gets a demerit for dropping an easy catch during the fourth quarter.
OFFENSIVE LINE: D-plus. Created room for the backs to run, but also gave up six sacks, although not all of them were the O-line's fault. Kaepernick was responsible for at least a couple of those sacks.
DEFENSIVE LINE: F. Gave up three rushing touchdowns and seemed to stop playing hard after the first one. Also allowed a running back to gain 100 yards on the ground for the ninth time in 12 games.
LINEBACKERS: F-plus. What I wrote about the defensive line, although Ahmad Brooks recorded a sack in the fourth quarter, because Ahmad Brooks never quits.
DEFENSIVE BACKS: F-minus. Bears' offensive coordinator Dowell Loggains seemed afraid to call a pass during the first half, until the very end of it when he realized the 49ers' defensive backs couldn't cover any of the Bears' backup wide receivers (all three starters were injured and didn't play). Bears' backup backup backup quarterback Matt Barkley, who came into the game with a career passer rating of 51.7, finished the game with a passer rating of 97.5. More on Barkley below.
SPECIAL TEAMS: A-minus. Phil Dawson made both of his field-goal attempts, and Shaun Draughn forced a fumble during a kick return and blocked a punt which Dontae Johnson recovered and ran back to the 4-yard line, where he stepped out of bounds. Unfazed, Johnson continued running to the end zone where he dropped to the ground and made a snow angel. Officials penalized him 15 yards for excessive celebration. More on this play below.
COACHES: Z-minus-minus. Chip Kelly didn't just lose, he got utterly destroyed and exposed for the dreadful NFL coach he is. Let us count the ways:
Kelly prepared his players for a snow game in Chicago by practicing all week in the Orlando heat instead of, say, Illinois.
Kelly adjusted to the snowstorm by scrapping his passing game almost entirely. He didn't even call a screen pass. He seemed like he didn't anticipate the storm.
Kelly adjusted at halftime by benching Colin Kaepernick in the fourth quarter when the game already was out of reach.
Kelly watched and did nothing when one of his players was flagged 15 yards for making a snow angel in the end zone after scoring a touchdown that didn't count.
Kelly ran the same stuff he runs every week and fooled no one.
Kelly's 28th-ranked offense scored only 6 points and averaged an embarrassing 2.7 yards per play.
Kelly's 32nd-ranked defense gave up 26 points to a team that hadn't scored more than 23 this season.
Kelly's team lost to a fourth-string quarterback he traded to the Arizona Cardinals for a conditional seventh-round pick when Kelly was with the Philadelphia Eagles in 2015.
Kelly's team lost to a depleted Bears squad that was missing 12 of its 22 starters from Week 1 and had even less talent than the 49ers.
Kelly's team lost to a club Jim Tomsula beat last season in Chicago when said club had Pro-Bowl quarterback Jay Cutler, Pro-Bowl wide receiver Alshon Jeffery and current Dolphins' head coach Adam Gase as the Bears' offensive coordinator.
Kelly sealed his fate today. The 49ers can't possibly justify not firing him after this season.
Say goodbye to Chip.
Grant Cohn writes sports columns and the "Inside the 49ers" blog for The Press Democrat's website. You can reach him at grantcohn@gmail.com.