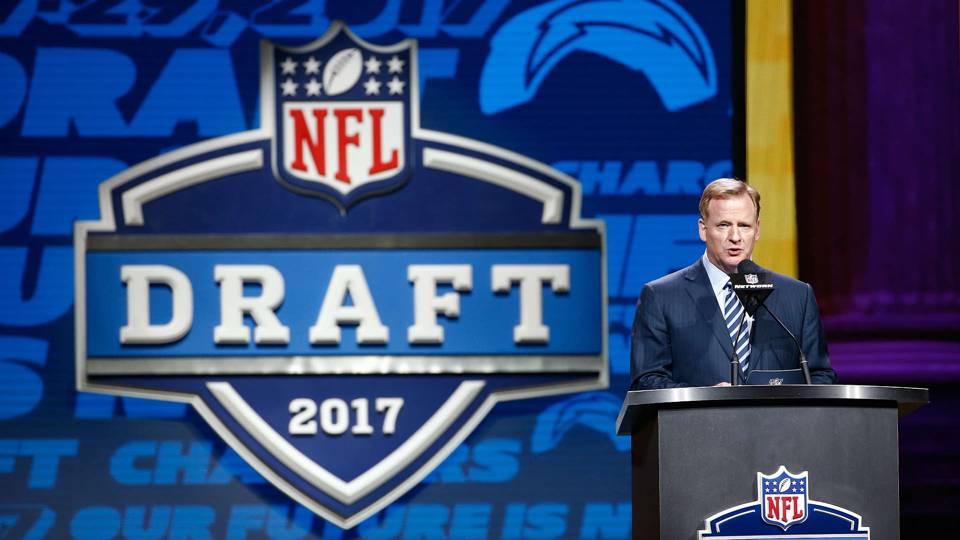 SANTA CLARA
This is the live blog for the third day of the 2017 NFL Draft. I will update this frequently with information and analysis from the 49ers media room.
9:27 The 49ers just traded a fourth-round pick in 2018 to the Denver Broncos for a fifth-round pick this year and 24-year-old running back Kapri Bibbs. Bibbs is a former undrafted free agent who spent the past two seasons playing in Gary Kubiak's outside zone running scheme. Last season, Bibbs carried the ball 29 time and averaged 4.4 yards per carry.
9:33 Bibbs played for Jim McElwain at Colorado State in 2013 and rushed for 1,741 and scored 31 touchdowns.
9:35 I give this trade a B. Bibbs probably won't contribute much, but the Niners didn't give up a ton to get him. I wouldn't be surprised if they trade down in the fifth round to get another fourth-round pick in 2018 to replace the one they just lost.
9:52 The 49ers just traded pick Nos. 143 and 161 to the Indianapolis Colts for pick No. 121 and took my favorite running back in the draft — Joe Williams from Utah. Williams is a phenom. I give this trade an A-plus.
10:04 Joe Williams is a better version of Tevin Coleman, the No. 2 back for Kyle Shanahan last season in Atlanta. Williams has the talent to supplant Carlos Hyde as the 49ers featured back. This is their best pick of the draft so far.
11:05 With the 146th pick, the 49ers take George Kittle, TE, Iowa. I predicted the 49ers would take Clemson TE Jordan Legget because he's a better receiver than Kittle. But Kittle isn't a bad receiver — he's actually quite good. And he's a fantastic blocker — much better than Leggett. It makes sense for the 49ers to take the superior blocker because they're a run-first, play-action-passing offense. Kittle will help the run game and the pass game. I give this pick an A. Two terrific picks in a row.
12:33 With the 177th pick, the 49ers take Trent Taylor, WR/PR, Louisiana Tech. It's reasonable to assume the 49ers were targeting Georgia WR/PR Isaiah McKenzie, but the Broncos traded up to pick No. 172 to take him. So the Niners had to take the next best WR/PR on their board, and apparently that was Taylor. He's a slot receiver who returned 17 punts for 178 yards in 2016. I give this pick a C. The Niners should have traded up for McKenzie.
1:26 With the 199th pick, the 49ers take D.J. Jones, NT, Ole Miss. He will compete with Mike Purcell to be the backup nose tackle. Jones probably is the favorite to win that competition. Grade: B.
1:40 With the 202nd pick, the 49ers take Pita Taumoepenu, DE, Utah. A small pass rusher who probably won't make the final roster. The 49ers should have packaged this pick to trade up earlier in the draft. Grade: D.
2:48 With the 229th pick, the 49ers take Adrian Colbert, CB/S, Miami. Colbert initially played at Texas and started four games at safety before transferring to Miami and becoming a cornerback. Missed two games last season due to a knee injury and three games due to a broken forearm which required surgery. The Niners needed to draft a second cornerback, but Colbert won't make the team if he can't stay healthy. Grade: C.
3:53 Click here to read my 49ers draft report card and updated depth chart.