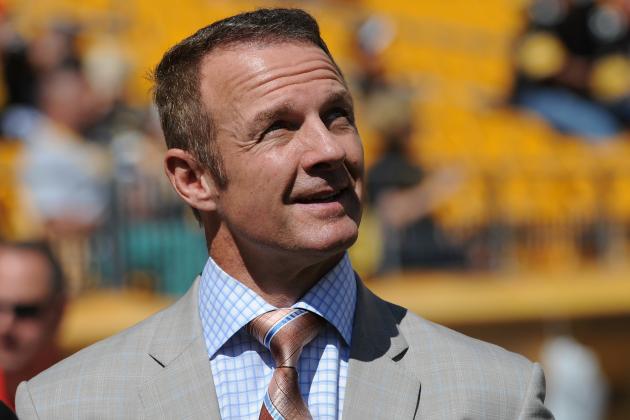 Merril Hoge, Herm Edwards and Louis Riddick just discussed the 49ers on SportsCenter. Here's what they said.
Hoge: "Here's what I see. Let's take a car. The car's not running real well, and we keep rotating drivers out of it thinking it's the driver. But really it's the gosh-dang motor, which means it's the system, and it's your coach that has brought a college system in here.
"I watched the game yesterday. Look at this. This looks like you're watching college. What is everybody doing?"
EDWARDS: "They're looking at the sideline."
HOGE: "We don't know why we're going to do it, but Coach is going to tell us what we're going to do…We go to the next play (video shows 49ers offensive players standing, turning and facing sideline again). Hey Coach, what are we going to do again?
"The value of a huddle. This system is one-third of football. And if there are three-thirds that make a complete offense that you have to run in the NFL. You have to have more phases to your game. This offense is the problem."
Q: "But the coach isn't going to change his system."
HOGE: "No he's not, so you have to change the coach."
EDWARDS: "You say change the coach, too?"
HOGE: "I say change the coach."
Louis Riddick: "From the front office on down, everything is up for grabs in San Francisco come January."
Hoge: "Including switching the driver."
Herm Edwards: "After six games?"
Hoge nods his head.
Q: "Can you win in the NFL with this system…"
Hoge: "No."
Q: "As it currently stands?"
Hoge: "No."
Edwards: "Don't know that yet."
Hoge: "No."
Edwards: "He won 20 games…"
Hoge: "No."
Edwards: "Running this system."
Hoge: "No."
Edwards: "We saw it."
Hoge: "No."
Riddick: "I'm a big believer in complementary football, and I'm a big fan of Chip's, but I'm starting to have my doubts in a big way."