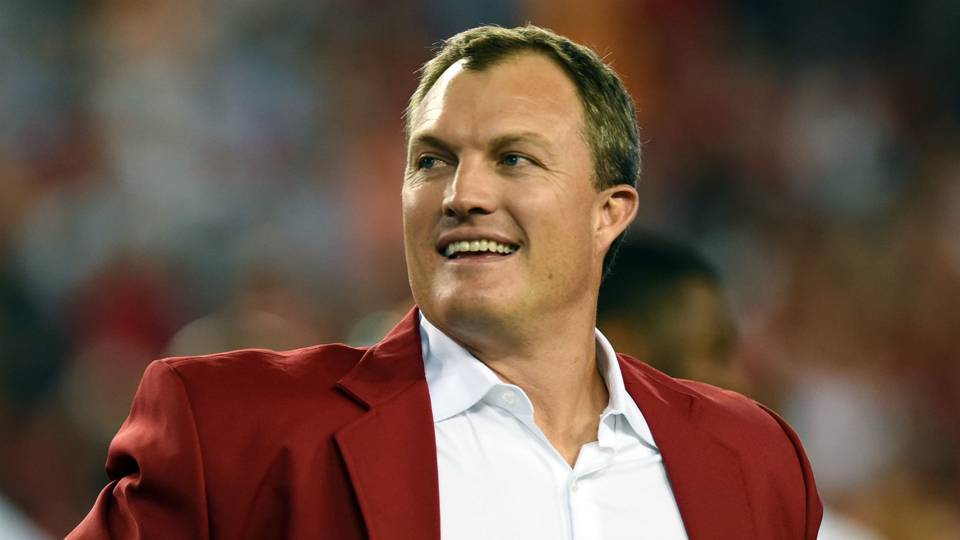 Here are the moves I think 49ers GM John Lynch will make this offseason:
FREE AGENT SIGNINGS:
QB Jay Cutler. Lynch likes Cutler, and if anyone him make him an above-average quarterback it's Kyle Shanahan. Cutler is the best stopgap QB the 49ers can get (Tony Romo probably would rather retire than join a rebuilding team).
DE DeMarcus Ware. Lynch will give Ware an expensive two-year contract to be a third-down pass-rusher (think Fred Dean) and a veteran leader in the locker room. Ware played the past-two seasons with the Broncos under GM John Elway. He will recommend Ware to Lynch.
WR Taylor Gabriel.  An excellent No. 3 receiver in Shanahan's system. Shanahan coached Gabriel on the Browns and the Falcons.
DT Glenn Dorsey. A terrific shaded nose tackle (1-technique) when healthy. Dorsey will compete with Quinton Dial to be the starter.
LB Gerald Hodges. Insurance in case NaVorro Bowman isn't ready to start the season or never fully recovers from tearing his Achilles tendon.
DRAFT PICKS:
1. LB Reuben Foster, Alabama. A future All Pro and the next Patrick Willis. Foster will play weak-side linebacker if the 49ers switch to a 4-3 defense as they should and probably will.
2. LB Haason Reddick, Temple. A strong-side linebacker who will play alongside Foster and Bowman. The Niners will fill their holes at linebacker with their first two picks.
3. WR Juju Smith-Schuster, USC. A big possession receiver who makes tough catches over the middle. Think Mohamed Sanu of the Falcons.
4a. RB Wayne Gallman, Clemson. A slender running back with breakaway speed who fits Shanahan's outside-zone running game. Gallman will be the starting running back in 2018 after Carlos Hyde becomes a free agent.
4b. CB Marquez White, Florida St. A big corner who will replace Tramaine Brock in 2018 after Brock becomes a free agent.
5a. OT Connor McDermott, UCLA. A potential replacement for Joe Staley in a few years .
5b. WR Kermit Whitfield, Florida St. A speed receiver who also runs jet sweeps and returns kicks, similar to Tyreek Hill of the Kansas City Chiefs.
6a. QB Jerod Evans, Virginia Tech. A dual-threat quarterback who needs time to develop and won't cost the Niners a high draft pick.
6b. RB Justin Davis, USC. Another slender running back who fits Shanahan's outside-zone running game. Davis and Gallman will become the 49ers' version of the running back tandem in Atlanta — Devonta Freeman and Tevin Coleman.
7a. FB Freddie Stevenson, Florida State. Chip Kelly didn't use fullbacks, but Shanahan does, and Stevenson is the best one in the draft.
7b. DT D.J. Jones, Ole Miss. A shaded nose tackle who will back up Dorsey and Dial.
What do you think of these moves? Do you like them? If not, what moves would you make, wise guy?