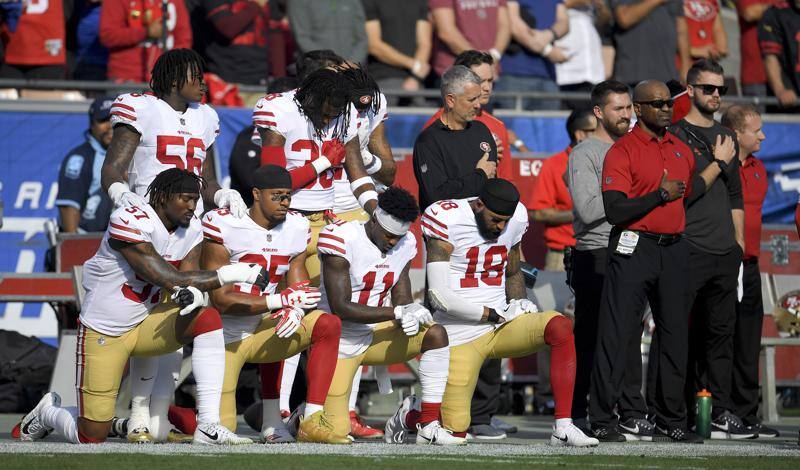 In December 2017, 49ers players were taking a knee in protest, with or without Colin Kaepernick. (AP photo/Mark J. Terrill
We don't even know if there is going to be an NFL season this year. And after watching the futile flailing by Major League Baseball and the confusion over the NBA Florida bio-dome, it doesn't look encouraging.
Or maybe you have checked the numbers among college football programs which have started practice. There are 30 players quarantined at LSU, 23 positive COVID-19 cases at Clemson and outbreaks at Texas, Houston, Kansas State and others.
So if the season does start, there are going to be problems, from keeping the players safe to staging games without the presence (and ticket sales) of fans.
But we can also expect the reappearance of an old favorite from 2017 — kneeling for the national anthem.
At this point it pretty much looks like a foregone conclusion. Baker Mayfield, of all people, came out to announce that he will "absolutely" kneel for the anthem. Other players have, and will, follow. This is a moment where sports figures have been thrust into the political spotlight and, for a change, are welcoming the opportunity.
And we can also expect an equal and opposite reaction from President Trump, who fueled this whole thing back in 2017. He's already at it, taking a swipe at the NFL in last Saturday's rally.
"We will never kneel to our national anthem or our great American flag," he said. "We will stand proud and we will stand tall. I thought we won that battle with the NFL."
So far, this is the second verse, the same as the first. Just like before, the players protest, the president protests their protests. Trump thinks he wins that argument.
"This is a winning, very strong issue for me," he has said.
Just a quick reminder. Some people seem to believe that Colin Kaepernick was the only kneeler, or that only a couple of players joined him. Not so.
Kaepernick attracted Trump's attention in 2017, which is when the president said if someone takes a knee, the owners should "Get that son of a bitch off the field right now!"
The reaction was immediate. On Week 3 of the 2017 season, 14 of 16 games featured some kind of protest. At its height, the protest included over 200 players around the league.
If anything, NFL players — 70 percent of whom are black — are more motivated now than ever with #blacklivesmatter. And as you have seen, red meat conservatives like Trump are doubling down on "Never Kneel,"
So what's new? That's actually an interesting question. We have seen some significant changes.
First, NFL Commissioner Roger Goodell, who in 2017 wrote a memo stating that every player should "stand for the national anthem," has spun 180 degrees.
This month Goodell said in a video that the league was "wrong for not listening to NFL players earlier and encouraging all to speak out and peacefully protest."
Which has to be seen as pretty much a green light for passive protests. What happened to Roger? Well, as always it has to do with the bottom line.
Trump is right. In 2016-17 this was a great issue for him. In Oct. 2016 a Washington Post-Kaiser Family Foundation poll found that 54 percent of American adults disapproved of protests and only 38 percent approved.
But a Yahoo Sports and YouGov poll this month asked the question "Is it OK for NFL players to kneel during the national anthem to protest police killings of African Americans?" The result was 52% yes, and 36% no.
Times are changing. And we are all looking for little weather-vane moments to gauge the strength and direction of those changes. This is one of them.
Funny, isn't it? The national anthem only lasts about a minute and a half. Hard to believe we can pack so much symbolism and emotion into that short piece of music.